The Creators Self Service Portal allows you to launch your own Bitcoin NFT collection with no coding experience needed: you'll be able to design, build, and manage a fully featured NFT smart contract where you have 100% ownership and control. You will own your art and hold the keys to the smart contract. The starting point of your new smart contract is located at https://create.gamma.io/getting-started
What does this mean? Gamma cannot censor or block what you do with your smart contract once it has been deployed and confirmed on the Stacks blockchain. While there is a review process to ensure no copyright infringement happens on our marketplace, what you do with your smart contract is entirely up to you.
Available collection types
Using our self-service creator portal allows you to select from three different smart contract types: Continuous, Public Mint, and Editions. Each is unique in how you, the creator, may use it as an NFT collection.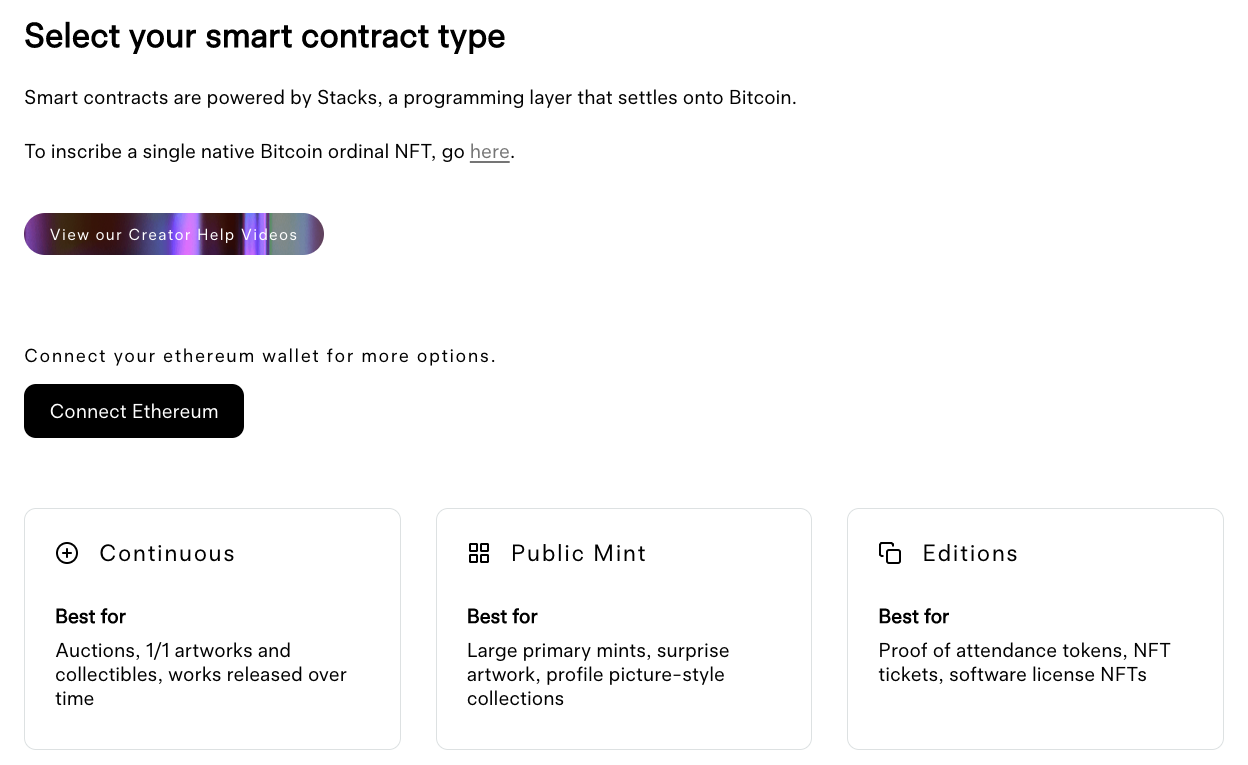 Continuous
Best for gradually building a collection over time, with a similar theme, concept or technique, as well as 1/1 Artwork you want to auction or list for sale straight to Gamma's marketplace.
NFTs are minted directly to your creator's address once deployed - you will be the first owner of these types of NFTs

Collectors will be able to view the NFTs before they are listed for sale which removes the element of surprise

Enabling auctions will have to be requested and approved before you can list your NFT for auction

Each NFT must be listed for sale on the marketplace individually, which takes more time and more transactions
Watch this short video guide on how to launch your Continuous collection.
Public Mint
The Public Mint is the traditional collection type. Creators deploy the entire collection at once, and buyers mint NFTs into existence. Ideal for PFP (profile picture) style collections, mint passes and airdrops, and keeping your artwork a surprise.
Buyers will mint NFTs from a public mint page without seeing which NFT they will receive

The art or media can be revealed as soon as the buyer receives the NFT in their wallet or remain unrevealed with a placeholder image until the reveal is initiated on your conditions

The collection size cannot increase once deployed, however, it can be reduced
Decreasing the collection size is permanent
Watch this short video guide on how to launch your Public Mint collection.
Editions
The Editions collection type is similar to the Public Mint, but more intended for the holders to receive recognition, access, or utility to something outside of the NFT collection itself. It is best for proof of attendance tokens or badges, tickets to events or experiences, software licenses for access to a service or platform.
There is a minting phase where you can also use our mint pass or airdrop features

Collectors will receive a token that functions in the same way as the others while being a part of a limited set of NFTs — artwork may appear identical to the other tokens in the collection

Collection size cannot be increased once deployed

Intended for the recognition or access to what the NFT grants, rather than the uniqueness of the art and metadata of the individual pieces.
Watch this short video guide on how to launch your Editions collection.
Once your collection has been reviewed and approved, you will receive a confirmation that your collection is live via the email address provided during your collection setup process. Gamma does take a 10% commission on your initial minting for use of the No-Code tooling provided and only 2% on secondary sales on the marketplace. This is to ensure we are able to maintain and develop our services for our NFT community.