Would you like to track a community member's trades and what they're buying? Or maybe there's a creator, collector or friend who's art and taste you love? With the Follow feature, you can follow any community member and see what they're up to!
How to follow a community member
On the user's profile page
Click the Follow button below their description. The button will then reflect that.


From the community page
You can either follow community members directly from this page, or you can visit their profile pages.

When you follow a community member, the follow button and the follower count will reflect that.

Finding the community members you follow
Click on the menu icon in the top right corner of the page and click on Following.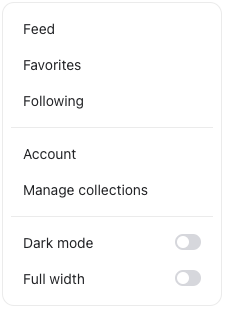 On this page, you'll be able to see all the community members you follow. You can unfollow them from there by simply clicking on the following button.


If you'd like to see what those community members are up to, you can click on Feed in the top menu. In the Following tab, you'll see these community members' listings and purchases.