Listing an NFT for auction is a way to sell one of your created NFTs for a minimum price, while possibly getting a higher final sale price if multiple buyers bid up your auction. If the minimum price, or reserve price, is not reached by a bid then the auction timer will not begin. You can unlist and end the auction for any NFT that has not had the reserve price met from a bid.

Below are the steps for setting up an auction for one of your created NFT collections.


Request Auction Approval
Before an NFT can be listed for auction, the collection must be reviewed and approved to add to Gamma's auction smart contract. Once you have deployed your Continuous type collection from the creator portal and the deployment has been confirmed in an anchor block, you may submit a request to Gamma Support to have your collection added to our auction contract.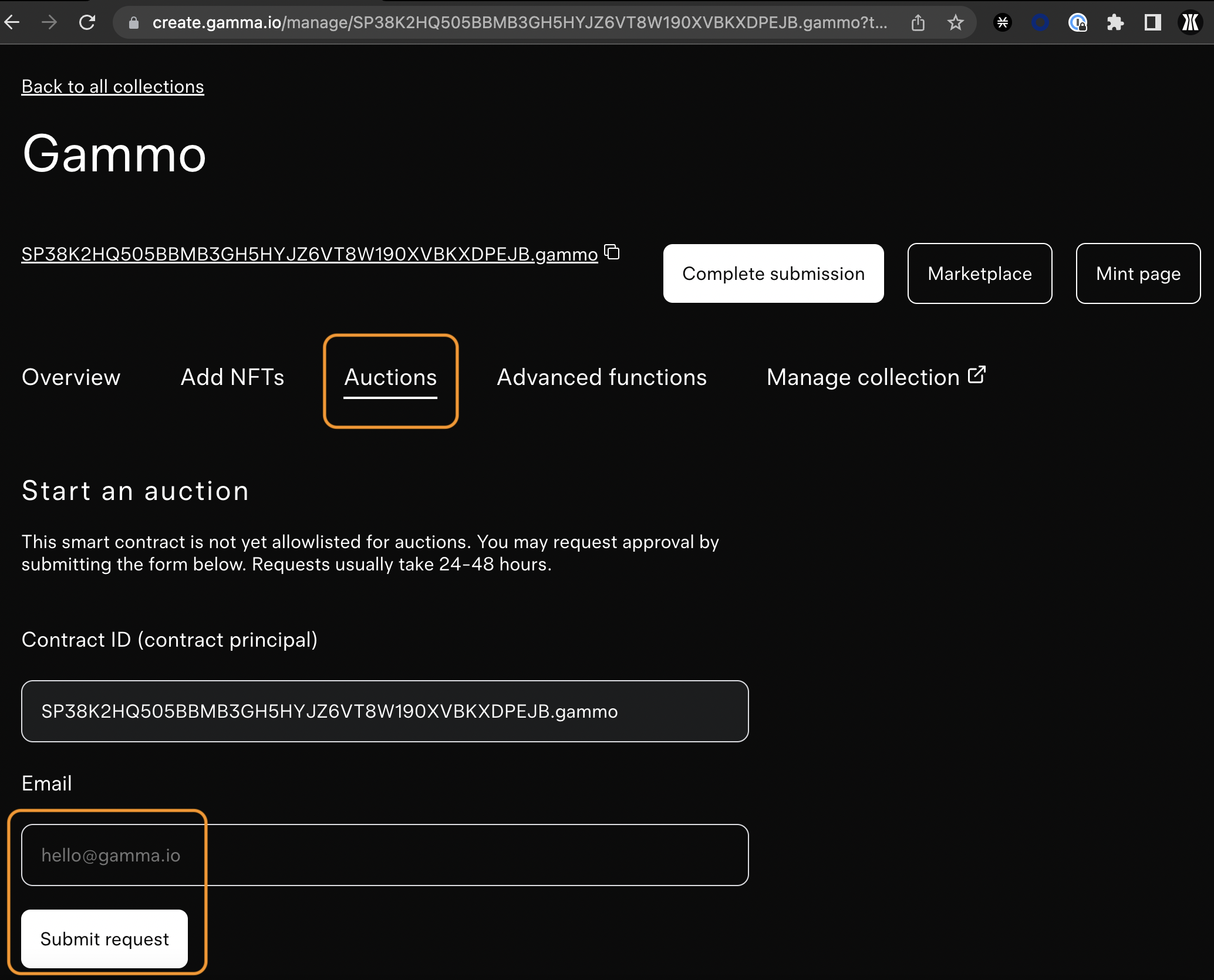 Go to create.gamma.io/manage and connect with your account that deployed the collection. Click on the collection you want to request an auction approval for in the list under "My Contracts". On the collection's management page, click on the "Auctions" tab, enter your email address and click the "Submit request" button.

Note - it can take up to 24-48 hours before collections have been reviewed and approved. You will receive a confirmation email at the email you provided when you are approved to list your NFTs for auction.
Set Auction Details and List
On the same Auctions tab for the collection you requested approval for, you should now see your NFTs displayed. Below each NFT you will see a View button and a List button
Selecting the List button will pull up the auction details window for you to fill in.
Selecting the View button will take you to that individual NFTs auction page. From here you can click the List Auction button to pull up the auction details window as well.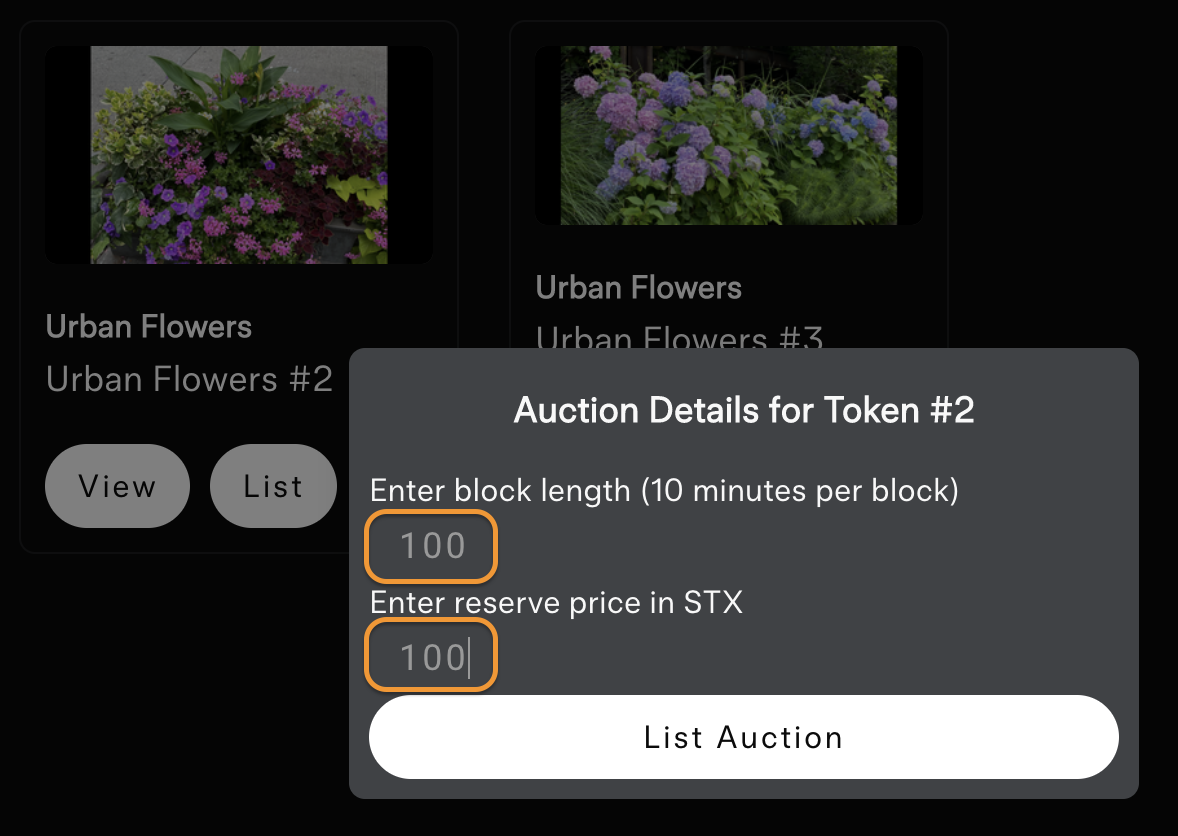 In the above screenshot, you can see we have selected to list Urban Flowers #2 (Token #2 in this collection) for auction. We have entered a block length of 100 and a reserve price of 100 STX. Let's break down what this means for our auction for this one NFT - Token #2:


Block length refers to how many blocks you would like this auction to run for once the reserve price is met from a bid*. Each block lasts approximately 10 minutes. For this 100 block length auction, the auction timer will start when the reserve price has been met and the auction will end after about 1,000 minutes (100 blocks X 10 minutes) - or around 16 hours.
Reserve price is the minimum bid amount in STX that you will accept for the NFT being auctioned.

*The block timer will not begin counting down until the reserve price has been met.
When you have set the details for your auction, select the List Auction button and your Hiro wallet pop-up will prompt you to confirm the transaction. Review the info one final time, and when you are ready select Confirm to deploy the auction listing transaction. Once it has been confirmed in an anchor block your NFT can now start receiving bids from potential buyers!
Ending an Auction
If you want to unlist your NFT from an auction, as long as the reserve price has not been met and the block timer has not begun counting down - you can select the "Unlist" button for that NFT from the Auctions tab in your Smart Contract Manager for that collection and then confirm the transaction from your wallets transaction window (see image below).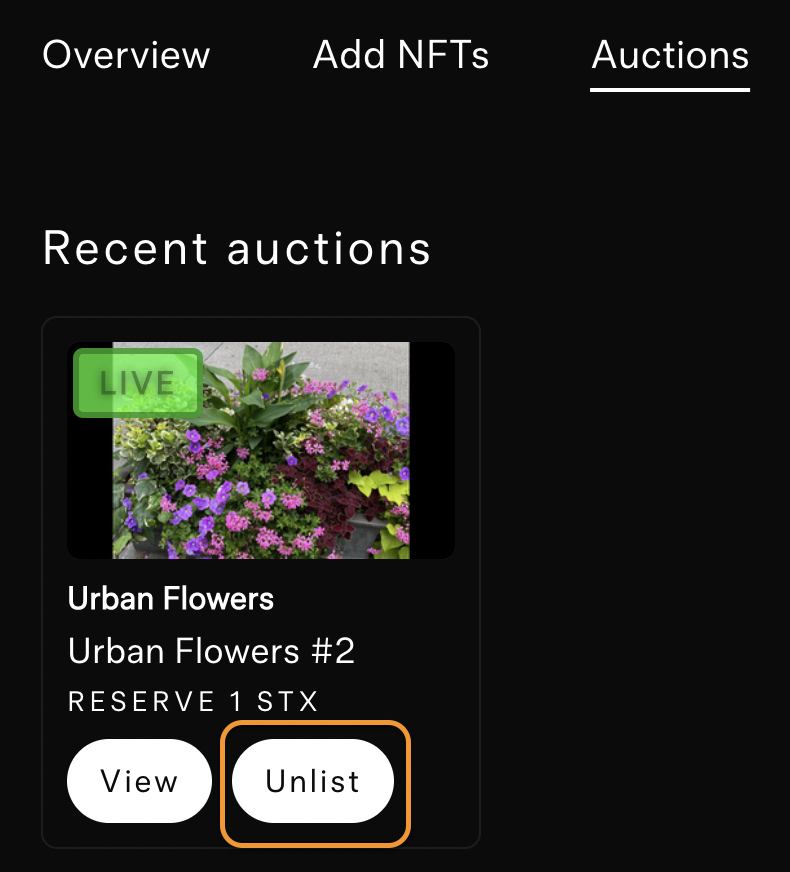 If you are ending an auction because the block timer ended - congratulations on a successful auction! Once an auction has ended, either you or the winner will need to claim and end the auction. Simply go to that NFTs auction page and select End Auction button and confirm the transaction through your wallet. You can also click the End button on the Sold NFT in your Auctions tab.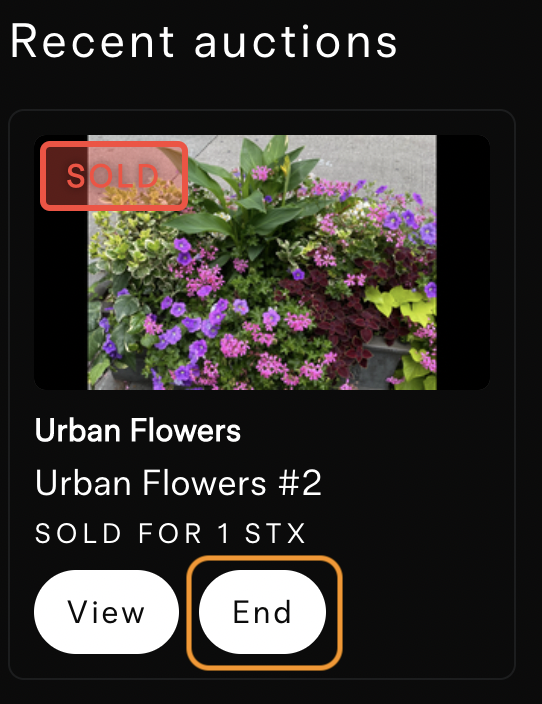 That's it - the NFT will be sent to the winning bidder and your STX will be sent to your account.